Blog-Archive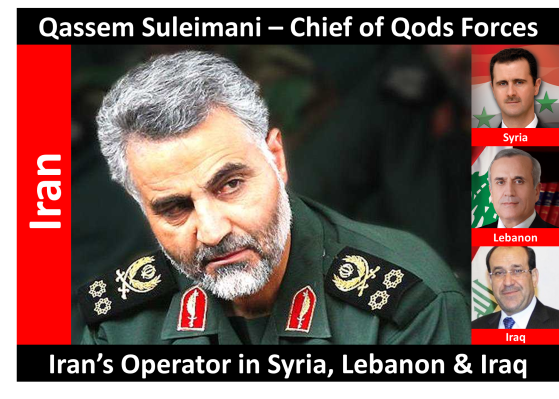 The most interesting Iranian person in the world right now isn't sitting in Vienna to talk about the nuclear agreement, and isn't dishing out quirky or alarming quotes from Tehran. He is probably on a plane, flying to and from Beirut, Damascus, Baghdad etc…helping to increase Tehran's military and political influence.
Meet Qassam Suleimani, commander of the IRGC's "external" operations units, better known as the Qods Force. A former CIA chief, John Maguire calls him, "the single most powerful operative in the Middle East today". Or you can call him by his nickname: Keiser Soze.
Suleimani in Iran
On the outside, he leads a "regular life". He is 57 years old. He wakes up every day at 4:00 and goes to sleep early at 21:30. He has five children. He takes his wife on some of his many "business" trips. He suffers from back aches. He never raises his voice (in fact he is silent most of the time) but is gifted with an "understated charisma that makes people pay attention to him.
He is also a decorated war hero from the Iran-Iraq war and is connected all the way up to the Supreme Leader Khamenei himself who has referred to Suleimani as "a living martyr of the revolution."
Rumours have it that Suleimani recently attempted a coup against Rouhani which was blocked at the last moment by Khamenei himself."
Running the War in Damascus
In Syria, Suleimani has worked as the liaison between the leaders in Tehran, the Hezbollah chiefs and Bashar al-Assad for the past 3 years. He has built up Assad's army from the inside after once exclaiming "The Syrian army is useless! Give me one brigade of the Basij, and I would conquer the whole country".
He works in Damascus from a fortified nondescript building together with a large array of officers: Syrian military commanders, a Hezbollah commander, a coordinator of Iraqi Shiite militias and a close comrade of his, the Basij former deputy commander Brigadier General Hossein Hamedani.
Once Suleimani got settled in, an immediate sharp increase in Iranian supply flights into the Damascus airport carrying weapons and ammunition was noticed. Thousands of Quds operatives suddenly turned up within the Syrian army and in Assad's special security service.
Working Behind the Scenes in Baghdad
But, as the ISIS crisis got into Iraq, Suleimani flew out repeatedly to Baghdad. The Guardian says – "Experts agree that it is hard to overestimate Suleimani's role in Iraq. "At times of crisis Suleimani is the supreme puppeteer…He is everywhere and he's nowhere. Suleimani is doing in Baghdad what he did in Damascus" – this time with Maliki instead of Assad.
Under his guidance, Tehran began by supplying Maliki with weapons and militia men as well as flying out drones and jet fighters into Iraq. Judging from Suleimani's experience in Damascus, one can only expect Suleiman to set up a similar force in Baghdad as well.
In any case, it would be worthwhile to keep an eye out on him at all times…trouble is never far away from him.
Source: Iran 24/07